Welcome
Thank you for visiting the Lillian Snyder Icarian Living History Foundation home page.
The Icarians were a utopian society that emigrated from France to the United States in the 19th century, settling in Illinois. Lillian Snyder, a descendant of Icarians, had a lifelong interest in Icarian history and philosophy. In her later years she established The Icarian Living History Museum in Nauvoo, Illinois. This Web site is dedicated to the museum and her memory.
The museum's Icarian artifacts, collected by Lillian, her relatives and friends, have been donated to the Nauvoo Historical Society and can be viewed at the Baxter-Snyder Icarian Room at the Society's Weld House Museum, 1380 Mulholland Street, Nauvoo, Illinois.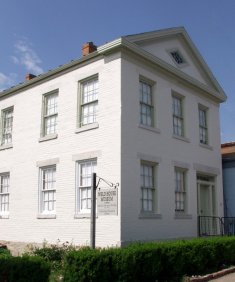 Nauvoo Historical Society's Weld House Museum Icarian Artifacts on display in the Baxter-Snyder Icarian Room